L'infanzia dell'Estetica. L'origine Evolutiva delle Pratiche Artistiche
2015 Milan: Mimesis.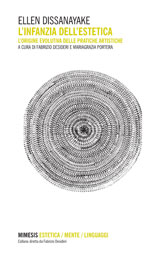 Ed. by Fabrizio Desideri and Mariagrazia Portera, trans. by Mariagrazia Portera, 208 pp.
---
The book includes the translation of seven essays: 1. The Artification Hypothesis and Its Relevance to Cognitive Science, Evolutionary Aesthetics, and Neuroaesthetics; 2. In the Beginning: Pleistocene and Infant Aesthetics and Twenty-First Century Education in the Arts; 3. A Bona Fide Ethological View of Art: the Artification Hypothesis; 4. Becoming Homo Aestheticus: Sources of Aesthetic Imagination in Mother-Infant Interactions; 5. Ritual and Ritualization. Musical Means of Conveying and Shaping Emotion in Humans and Other Animals; 6. Prelinguistic and Preliterate Substrates of Poetic Narrative; 7. Root, Leaf, Blossom, or Bole: Concerning the Origin and Adaptive Function of Music), plus an introductory essay by M. Portera, outlining my work and research on the evolution of the arts.