About Ellen Dissanayake
---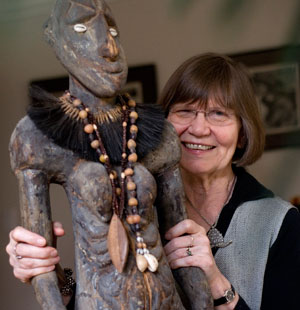 I am an independent scholar, author, and lecturer whose writings about the arts synthesize many disciplines, including evolutionary biology, ethology, paleoarchaeology, cognitive and developmental psychology, cultural and physical anthropology, neuroscience, and the history, theory, and practice of the various arts. Combining my interests in the arts and evolutionary biology, and using insights drawn from fifteen years of living and working in nonwestern countries (Sri Lanka, Papua New Guinea, India, and Nigeria), I have developed a unique perspective that considers the arts to be normal, natural, and necessary components of our evolved nature as humans.
Brief CV
Born in Rock Island, IL; educated in Tulsa, OK through 8th grade, Walla Walla, WA through high school
Higher Education and Academic Qualifications
Washington State University: Pullman, Washington, USA 1953 to 1957 B.A. in Humanities: Music and Philosophy, summa cum laude. Top Ten in Graduating Class.
University of Maryland: College Park, Maryland, USA 1963 to 1970 | M.A. (History of Art) Thesis: An Iconography of the Lithographs of Odilon Redon
Maryland Institute College of Art: Baltimore, Maryland, USA, Doctor of Humane Letters, honoris causa.
Employment
The New School for Social Research Graduate Faculty: New York, NY, USA 19/1/1983 to 5/15/1992 | Instructor (Master of Arts in Liberal Studies and Vera List Center)
Ball State University: Muncie, Indiana, USA 8/15/97 to 12/31/1997 | Emens Distinguished Professor (School of Art and Design)
University of Alberta: Edmonton, AB, Canada 1/9/1999-12-31,1999 | Distinguished Visiting Speaker (School of Art and Design)
Awards, Fellowships, Grants, Visiting Positions
Award, Junior Year, Phi Beta Kappa, Washington State University.
Award, 1956, J Horace Nunemaker Award for student with promise to make a contribution to the humanities.
Grant, Harry Frank Guggenheim Foundation (New York, NY), for six months at Oxford University, 1977-1978 for library research.
Grant, Fulbright Association, Senior Scholar in Sri Lanka, "The Contemporary Arts in Sri Lanka." Sept. 1992-June 1993.
Grant, Institute for Advanced Studies in the Humanities, University of Edinburgh, UK, "Origin of Music in Mother-Infant Interaction." January 1994-March 1995
Distinguished Visitor (Department of Anatomy and Human Biology), The University of Western Australia, Perth, W.A. 2 weeks in September 1999
Visiting Scholar (Institute for Advanced Studies in the Humanities), The University of Western Australia: Perth, W.A. 3 weeks in February 2005.